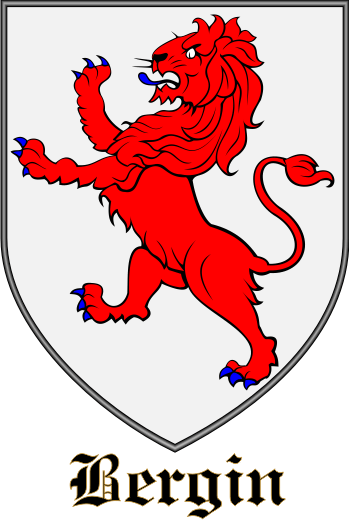 Get this crest printed on...
BERGIN Family History
Recorded in many spellings including Bergen, Beregan, Berrigan, Berrygun, Bergin, Birgin, Burgoin, Burgoyne, Burgan, Burgen, Burgin, Burgwin, Burgwyn, Burgyn, and others, this is a surname of Dutch, French or Norwegian origins, and locational. It is usually from Burgandy, and describes a person from that French region, but occassionally it may be from places called Bergen in both the Netherlands and Norway. It is possible that in all cases the derivation could be from a Gaulish tribe called the Burgundii, who invaded much of Northern Europe and even as far south as Spain in the 5th century a.d. In the British Isles, the first region in the world to truly adopt hereditary surnames, it is recorded in the famous Domesday Book of England in 1086, when Walter Burgoin was granted lands in the county of Devonshire...