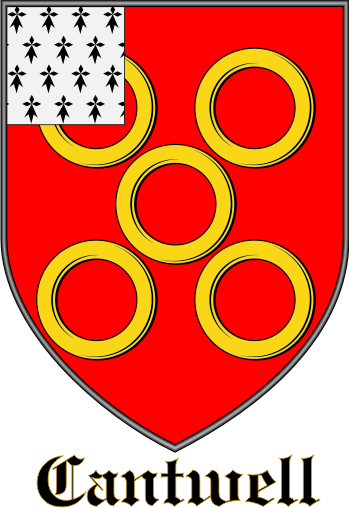 Get this crest printed on...
CANTWELL Family History
This interesting surname of English origin is a dialectal variant of the locational name Kentwell in Suffolk. It is not far from the Glem and may be an old name for this river. If so, the original name was Kennet deriving from the Old English pre 7th Century "cynete" plus "wella", "stream". This surname dates back to the late 13th Century, (see below). Further recordings include one Thomas Cantewell (1446), "The Close Rolls". Variations in the idiom of the spelling include Candwell, etc.. The church records at St. Giles, Cripplegate, London, include Cicily, daughter of Thomas Cantwell who was christened on March 13th 1568, and John, son of Arnold Cantwell who was christened on November 18th 1568...