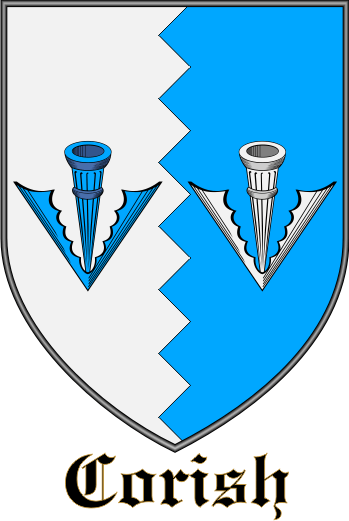 Get this crest printed on...
CORISH Family History
Recorded as Cory, Corrie, Coor, Coris, Corish, Corris and possibly others, this is a Gaelic surname of Scottish origins, and also recorded in Ireland as Corry. It is locational from any or all of the places in Arran, Dumfriess and other areas named "Corried". The place name derives from the word "coire", meaning a cauldron, and used here in the transferred sense of a circular valley. The first recordings are 13th century and include Radulph de Corry, who witnessed a charter by Henry de Grahame at Morton in the year 1220, and Walter de Corri, cousin and an heir of Helewisa de Levynton, who rendered homage to King Edward 1st of England, in 1274 for his portion of her lands...