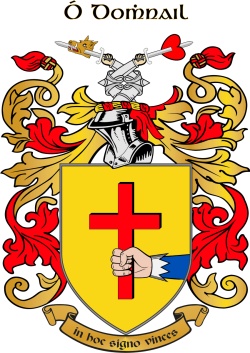 Get this crest printed on...
DONNELL Family History
The O Donnells are one of the eminent families whose forefather was Niall of the Nine Hostages. Tirconnell, meaning ?Connell?s territory? (Now Donegal) was their base, and from Domhnaill (world mighty) they took their name. Their chieftains were inaugurated on the Rock of Doon near Letterkenny. Theirs is a history of battle. They built strong holds around Donegal and defended them first from their neighbours, the O?Neills, and then in a losing battle, from the Tudors. Donegal, Rock of Doon near Letterkenny.