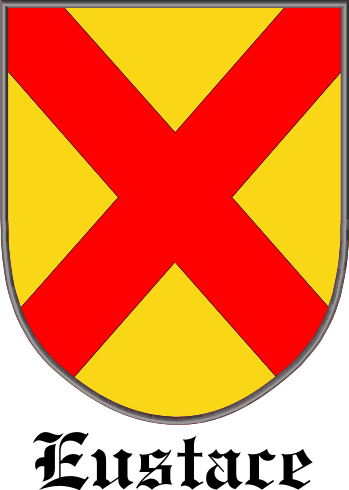 Get this crest printed on...
EUSTACE Family History
Recorded in several forms as shown below, this early medieval surname is English, but a French introduction. It derives from the Roman (Latin) personal name Eustacius, itself from the similar Ancient Greek Eustakhios, and meaning "fruitful". St. Eustace was a Roman martyr who, while hunting near Tivoli was converted to christianity by a vision of a crucifix between the antlers of a hunted stag. The name Eustachius as a personal name is first recorded in the Domesday Book of 1086 for Hampshire, and was probably introduced by the Norman invaders in 1066. The surname first appears in the 13th Century (see below), and modern spellings include Eustace, Ewestace, Eustes, Eustis, Eustice, dialectals Heustace and Heustice, and the short form Stace, with its patronymics Stacy and Stacey...