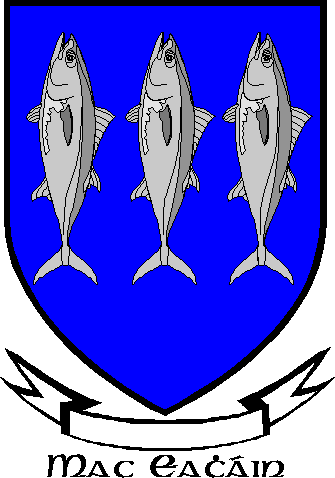 Get this crest printed on...
GAHAN Family History
Recorded in many spelling forms including Gaughan, Gavan, Gavaghan, Gavahan, Gahan, O' Geehan, MacGeehan, McGeehan, and McGahan, this notable surname is Irish. Originally it was exclusive to the province of Connacht, but is now quite popular in parts of Ulster. The derivation is from the pre 10th century Old Gaelic "O'Gaibhtheachain", meaning the descendant of Gaibhtheachan, a male give name meaning fierce or dangerous! Traditionally, Irish family names are taken from the first head of the tribe, who was usually an illustrious warrior, which was clearly the case here. The first recorded spelling of this family name as O'Gaughan was in the ancient population group of Ui Fiachrach, located in north Mayo and Sligo, where they possessed territory in the Crossmolina area of County Mayo, whilst it is as Gahan in East Leinster, Gavahan or Gavaghan in County Roscommon, McGeehan and Mageen in County Donegal, and McGahan in County Louth...