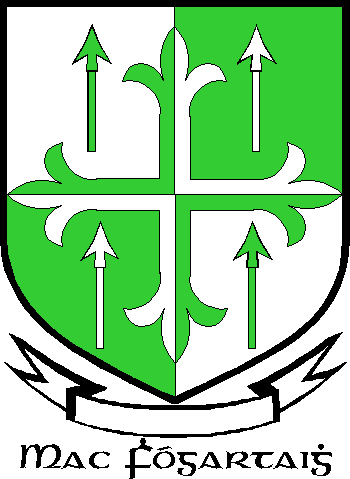 Get this crest printed on...
GOGARTY Family History
This surname is of early medieval Irish origin, and is an Anglicized form of the Old Gaelic "O'hOgartaigh", itself a variant of "O'Fogartoigh", with the aspiration of the initial "F". Traditionally, Irish family names are taken from the heads of tribes, revered elders, or some illustrious warrior, and are usually prefixed by "Mac" denoting "son of" or "O", grandson, male descendant of. The personal byname "Fogartach", in this instance, derives from "fogartha", banished, exiled, outlawed, and the surname is usually endered (O)Fogarty in English. This great sept originated in the southern part of Eile or Ely, and were of sufficient importance to give their name to the barony of Eliogarty in County Tipperary...