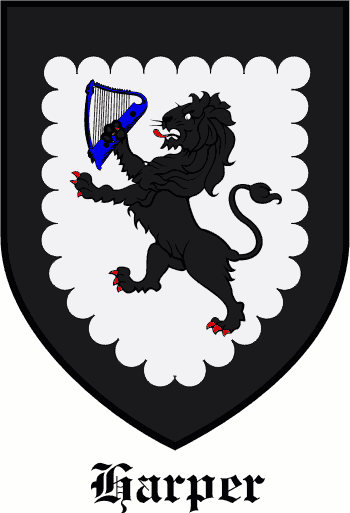 Get this crest printed on...
HARPER Family History
This long-established and distinguished surname may be either of Anglo-Saxon or Old French origin, and is an occupational name for a player on the harp. The derivation is from the Olde English pre 7th Century "hearp", Middle English "harp", with the addition of the agent suffix "-er". In its original sense "a man who has to do with", the "-er" designates persons according to their profession or occupation. Some early forms of the name, for example, Harpour and Harpur, have their origins in the Anglo-French harpour", Old French "harpeor", a harper. In medieval times, the harper was one of the most important figures at baronial halls, festivals and fairs, and the Brehon laws of Scotland and Ireland ranked the playing of the harp as "the one art of music which deserves nobility"...