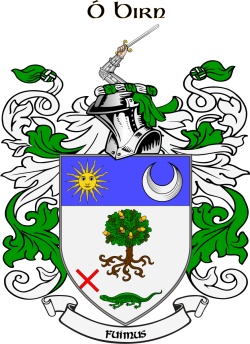 Get this crest printed on...
O'BYRNE Family History
Gaelic form of 'Byrne', means descendant of Bran. The name has been traced back to ancient Celtic chieftain, Bran Mac Maolm?rrdha, King of Leinster (d. 1052), who belonged to the U? D?nlainge dynasty. Along with King Conn of the Hundred Battles, he was descended from Cathair Mor, an earlier king of Leinster, who was also monarch of all Ireland around 200 AD.