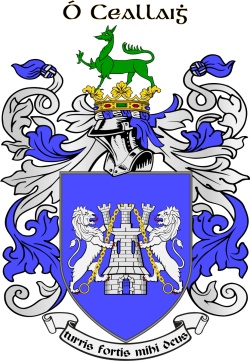 Get this crest printed on...
O'KELLY Family History
Kelly is a first name and a surname which originates in Ireland, England and Scotland. The Irish surname originated as a patronymic surname, with the prefix ? ("grandchild", or "male descendant") and the suffix Ceallach ("strife", or "contention"), an Old Gaelic clan name, ? Ceallaigh (anglicisized as "O'Kelly"). One of the more prominent families of the name came from the kingdom of U? Maine in Connacht. Today the surname Kelly is the 2nd most common family name in Ireland, the surname Murphy being the most common.