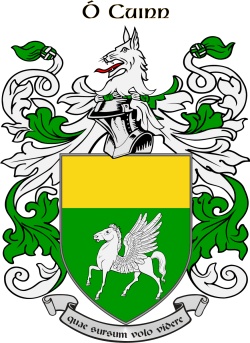 Get this crest printed on...
QUINN Family History
Ó Cuinn - anglicised as Quinn and Quin means descendant of Conn. The name means perhaps 'chief', 'sense', or 'freeman', according to different authorities.
The legendary 2nd century Conn Ceadchadach ( Conn of a hundred battles) founder of the Connachta, and thus the name of the province of Connacht, may be the eponymous ancestor of any of the following distinct Quinn septs: of Cineál Eoghain in Cos Antrim, a sept of Cineál Eoghain in Donegal, another sept of the same tribal grouping in Tír Eoghain in present Derry; others flourished in Longford, Sligo, Mayo, Clare and Tipperary.
In the 1659 'Census', undertaken by Sir William Petty, Commonwealth surveyor, the name appears as a 'Principal Irish Name' in counties:
Antrim
Toome Barony, O Quin, 6 (families, all figures).
None found in Co Donegal
Derry
Loghinsholin Barony, O Quin, 6.
Longford
Longford Barony, Quin, 4.
None found in Sligo. Mayo is missing from the 'Census'.
Clare
Inchiquin Barony, O Quine, 10.
Tipperary
Iffa & Offa Barony, Quin & O Quinne, 19.
By the mid 19th century Griffith's 'Valuation' of Irish Households, most households of the form Quinn were in Cos Tyrone (575) Galway (278) Tipperary (256) Down (199) Dublin (103 + 60 city) Mayo (150) Roscommon (146) Limerick (136) Clare (131) Antrim (68 + 56 Belfast). Most of the form Quin were in Tyrone (88) Down (68) and Laois (53). Totals were: Quinn (3894) and Quin (548).
In the Registrar General's 'Special Report on Surnames...'(1894), based on birth registrations in 1890, Quinn had the 19th highest order of incidence, and was most frequent in Dublin, Tyrone, Antrim, Roscommon and Galway. It was the most numerous name in Tyrone. The totals were: Quinn (349) and Quin (58).
Quinns in Early Irish History
Augustin Ua Cuinn, chief Brehon judge of Leinster, died of the pestilence, along with many other notables in Ireland and across Europe, as recorded in the Annals of the Four Masters for the year 1095.
'Etain, queen of Munster, daughter of Ua Cuinn, who was on her pilgrimage at Daire, died after her victory over the world and over the demon', Annals of Ulster, 1188.
Thomas O Quin, a friar minor, was consecrated as Bishop of Clonmacnoise, in Rome in 1253, as recorded in the Annals of the Four Masters.